View Employee Earnings
VIEW EMPLOYEE EARNINGS
PURPOSE:
This option allows you to print OR send to file, earnings records,for any payroll year. You are allowed to access information for up to 10 Pay Codes. Use this option to verify specific data items such as UIC Earnings and Deductions for one or more employees.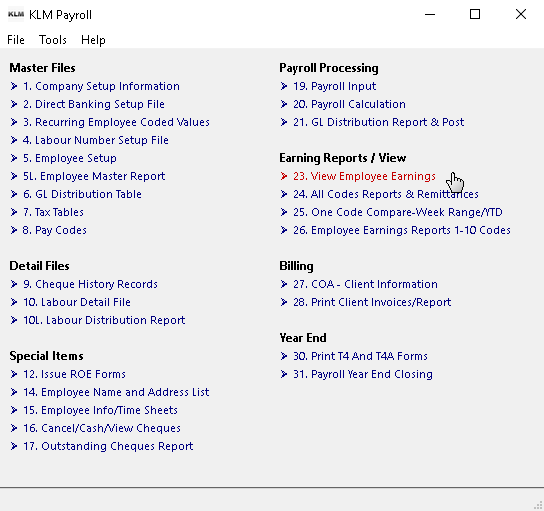 KEEP IN MIND
You can run reports as many times as you wish. For reports to print the following files must exist:
A valid

COMPANY MASTER

in Menu #1.

Valid

EMPLOYEE MASTER

records in Menu #5.

Valid

PAY CODES

file in Menu #8.

Existing

CHEQUE HISTORY

in Menu #9.
Each calendar year has it's own historical data files, specify which year you wish information to be retrieved from. The program defaults to the current year if no entry is made.
Working backwards, from the last pay issued, the program prints ALL earnings for ONE or more employees, in descending order. You have the option of selecting any 10 PAY CODES. The 10 codes displayed are defaults and can be altered.
Any earnings that have been cancelled through either Menu #9 or #16, will still appear, however their dollar amounts will not be included in the year-to-date totals.
LISTING CHEQUE HISTORY INFORMATION
To list existing Cheque History information, do the following:
1) At the KLM Payroll System Selection Menu, select View Employee Earnings. The appropriate screen will appear.
2) While at the selection screen, if you leave the defaults in place and simply RUN the report, you will get a Year-To-Date report, for the current year, for ALL employees in all companies, in summary format.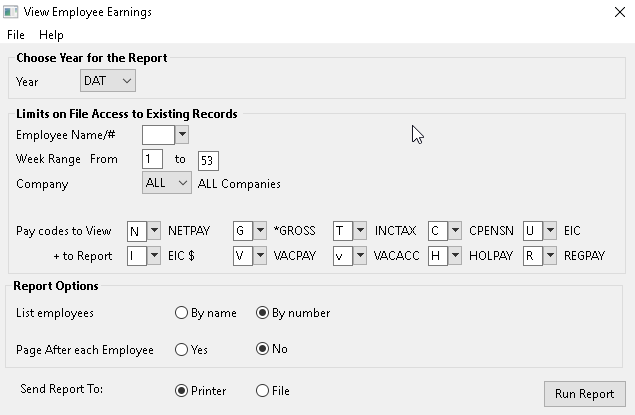 Report Options
You can use the report selections provided to customize your own reports.
DATA LIMITS
Include the calendar year, the company for which you are reporting and the PAY WEEK range (1 to 53).
This report can be printed for just ONE employee or ALL employees. Select a specific employee otherwise all employees who meet the remaining DATA limits will be printed.
The program automatically lists the 10 most common PAY CODES used. Leave the defaults in place, replace one or all 10 or blank any CODES you do not want.
REPORT OPTIONS
Selections determine how information is listed.
List Employees

is limited to

Employee NAME

or

NUMBER

order.

Separate by Company

allows you to print all companies, one after the other.

Page After Each

allows you to print one employee per page. Only for use if ALL employees are to be printed.

Sent Report To

allows you to send the report directly to the printer or create a text file for later viewing. If you select Print To File, you will be prompted for the folder to save the file in. Default file name is

PAY023.txt

.
PROBLEMS LISTING CHEQUE HISTORY INFORMATION
EMPLOYEE records are sorted by both EMPLOYEE NAME & NUMBER. Saving you time, by speeding up record access when printing.
If any of the following occurs when you are trying to list or retrieve records:
Records are missing; not on reports etc.

Report listings appear to be repeating themselves; listing the same records over & over.

Reports stop part way through listing.
If the sorting function of this option has been disrupted. To reset the SORTING functions do the following:
a) If asking for your listings by **Employee Name **sequence, try asking for the same report by Employee Number.
b) If the report runs without incident, the error lays in the EMPLOYEE NAME SORT function. See EMPLOYEE MASTER UTILITIES for instructions on re-setting name sequence.
OR
1) If the report is still in error, then the problem lays with either a) limits placed upon the report or b) EMPLOYEE NUMBER SORT function.
2) For situation a) verify that the information exists Verify the contents of Menus 1, 5 and 9.
OR
2) For situation b) then do an EMPLOYEE NUMBER SORT. See EMPLOYEE MASTER UTILITIES for instructions on re-setting the number sequence.